For Mallerie Stromswold, honesty is the most important thing, and that applies to explaining the reasons she's resigning her seat in the state Legislature representing central Billings.
"I need to be able to lead and do the work for my constituents. Right now, it's just clearly not that time. I was hoping it would be and unfortunately, last few weeks has shown me that it's not," Stromswold said in an interview this week.
The obvious question is also the loaded one — why? Stromswold has loved and is grateful for the opportunity serve and her devotion to public service and constituents is apparent.
But then there's the "however," the "in spite of that," the "notwithstanding" that she's had to withstand.
"It's no secret that being in Helena, my experiences in the past haven't always been positive. That was part of it," Stromswold said. "But it's mostly right now, my mental health is not in a state where I can be doing something like this. When you come in with negative mental health and you throw everything like this on top of it, it's just not conducive to being a leader. I need to be focusing on myself because to be a conductive leader, I need to be OK."
Stromswold said she's not entirely comfortable right now sharing everything that happened last session, but some of it she will talk about and some of it played out publicly.
"It was not a secret that I made votes last session that set me apart from my caucus because I voted my conscience and my constituency, and that was met with a lot of resistance for my caucus," she said.
Her voting record was not the only thing that defined Stromswold in a different way than much of the rest of the GOP caucus. She was one of three Montana legislators last session under the age of 25, compared to 45% of members in the Baby Boomer category, according to data from the National Conference of State Legislatures.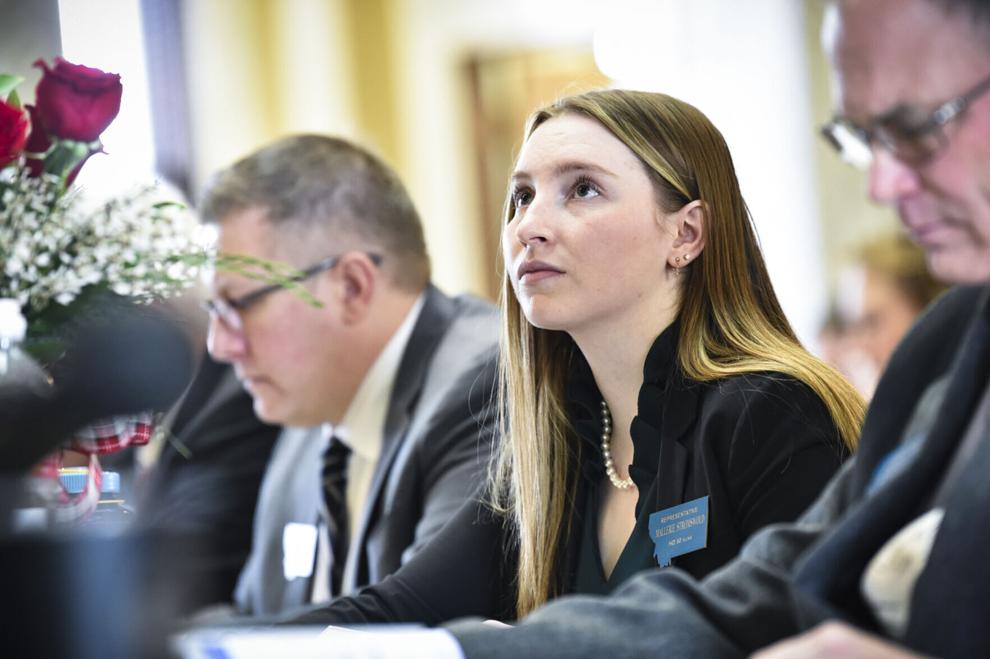 Bringing that viewpoint to the chamber was one of the reasons she wanted to serve and a reason it's hard to leave.
"I feel like I do offer such a unique perspective oftentimes, and if I don't, who will? If I don't say things, who will?" Stromswold said.
mental health
Broadly speaking, Gen Z is much more comfortable speaking about mental health in the same way as physical ailments, and that's important for Stromswold to demonstrate now.
"I thought 'Oh, I can handle it. I can handle it. I can always handle everything," Stromswold said. "But it became more and more of 'Is it worth it right now?' because I saw myself 30 days into the session being so beat down and not even being able to properly serve."
When she was discussing the potential of resigning, a friend reminded her it should be treated the same as resigning when physically sick, something that's often more accepted.
"Mental health should be seen as health. I wasn't raised that way. Montana isn't really predisposed to think that way, especially not on the Republican side nearly as much," Stromswold said. "I think it's probably because it's always been like 'We're tough, you pull yourself up by your bootstraps and just keep on going.' But you can only do that for so long. I don't want that to be the theme of my life. I want to be healthy. And I just don't feel healthy anymore."
She's in school at Montana State University trying to take one of her classes in-person Monday and Friday and Zoom into her legislative hearings and floor sessions on those days. That schedule flops the rest of the week when she's in Helena.
She's paying rent in Helena and in Bozeman where she's in school — something anyone with a passing awareness of the housing market in Montana knows is an Everest-like challenge in its own right.
And she's doing it all without the kind of long-term, supportive job; self-employed career; or retirement fund- and pension-backed financial arrangement many legislators have that allows them to come to the Capitol for four months every other year.
That feeds into another obstacle for Stromswold and something she wanted to make sure people understood: how inaccessible the Legislature can be.
"It was an institution created by typically older, wealthier and, to be honest, men, and I'm none of those things," Stromswold said. "I have student loans, I pay two rents, I'm going to school. I can't afford it. I can't afford to serve."
In the first two weeks of this session, discussion about what to do with a $2.4 billion surplus has dominated. Many ideas end up being about property tax rebates, something that doesn't mean a whole lot to a renter in college. When she raises that disconnect, she said often the point she's making hasn't occurred to many legislators before.
"I can't blame them. That's not what they're hearing. They're not knocking doors with college students. Typically they're paying property tax and that's what they're seeing," Stromswold said. "I feel like I have a responsibility almost (to raise those points), but I know this perspective will follow me."
Caucus problems
Since wearing in Jan. 2, Stromswold reflected on the struggles of the last session and realized this year wasn't going to be much different in key ways.
"I still need to make those votes. I'm not ever going to just fall in line. It became clear that repercussions for such actions haven't changed this session," Stromswold said. "You get a lot of backlash, verbally, and pressure. Pressure and backlash is a really good way to encapsulate what happens."
After a pause, she added: "Anger."
When she decided to run the first time shortly before her 18th birthday, she never envisioned the political environment she walked into.
"I thought everybody has your back and they only focus on what our big focuses are: liberty and small government and freedom," Stromswold said.
Then she saw the first slew of bills focused on culture-war issues like legislation limiting transgender health care and access to sports teams.
"(I) realized that those priorities technically, to some people, fall under that (party platform) umbrella, but they don't for me," Stromswold said. "I feel like I don't really have a place in this platform at this time."
There's always going to be hostility, Stromswold said, whether it's spoken and outright, as last session went, or unsaid and alienating, like this one so far.
"It was difficult because it was happening more so behind closed doors at this point. Last session was very direct at me. (This session) most of the stuff was isolating and the best way to put it was punishment, making it more difficult for me without them having to look at me and say, 'We're gonna do this to you' or saying something volatile to me," Stromswold said.
She worried bills she wanted to bring, like one to fund homeless shelters, wouldn't get a fair shake.
"It was like 'I don't know if I'm the best person to carry this, because I want it to pass,'" Stromswold said.
"There was that concern that I didn't want to put anything that was a huge priority at risk because I was the sponsor," Stromswold continued. " … I wish they would think less about the representative and more about the representation."
For every person who's taken out frustrations on her for past votes, she wanted to make sure to say that there's been three more who were kind. And she is proud of the work she has done.
"When I think of highs of last session, it is standing up in those scenarios when I'm the one out of 67 to do so. It's also the lows because you get all that backlash from it. But it feels good that I can be proud of my last session and this session, even though it's been two weeks," Stromswold said.
In a statement Saturday responding to Stromswold's resignation, Speaker of the House Matt Regier, R-Kalispell, said "…House leadership wishes her well in all future endeavors."
'Disheartening'
Stromswold has been a Republican "my whole life," she said. And since she was 11 everyone around her knew she wanted to be in the political world one day, but what she experienced on the GOP side of the Legislature has turned her off from that idea. Her political beliefs find root in the idea of ​​generally leaving people alone to do their own thing as long as they're not hurting anyone else.
"The biggest thing for me is personal choices. … Every single decision, I feel like, should be very without government. I do understand some government is needed … but that is what the Republican Party means to me: taking care of making sure everybody has their basic needs and is able to live life how they choose," Stromswold said.
Stromswold fell in love with the legislative process when she was a page in the 2019 session during some of the most intense debates on Medicaid expansion.
"There's this big group of Republicans who just went against their whole caucus," Stromswold said of what she saw four years ago. Then she saw them get re-elected and it showed her she could stand up for what she believed in.
It's a message she's sharing with this year's crop of freshman legislators, especially those who voted in the more moderate side of a debate over setting the House rules.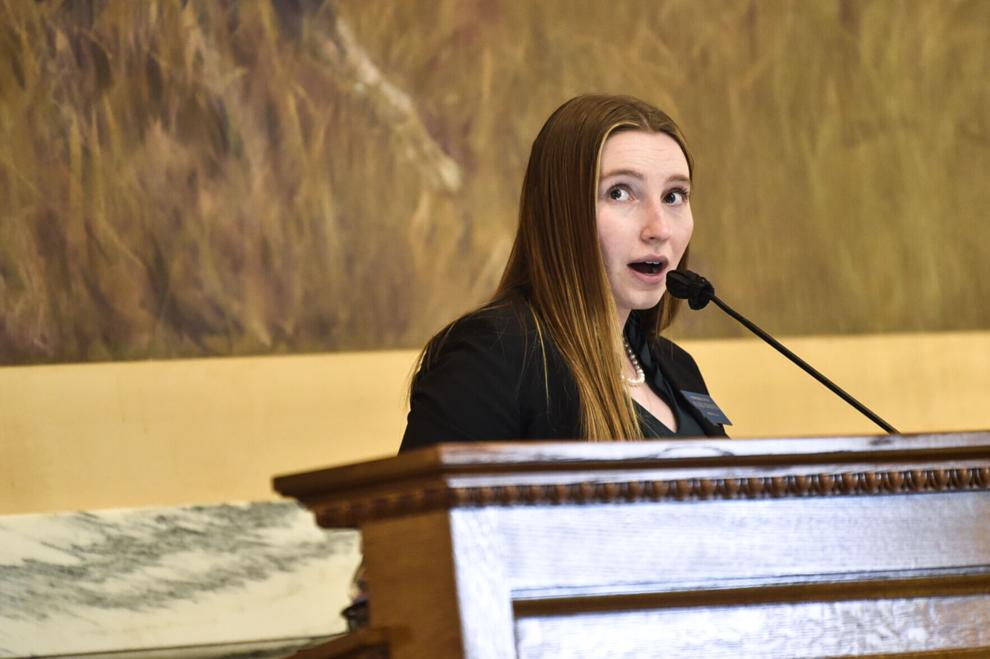 "It's interesting because I'm at least 20 years younger than most of them, and … I get to be a role model. I also want to be a role model for everybody else, by saying 'If you can't do this, that's OK and you don't have to put up with this,'" Stromswold said.
It's hard when the party, Stromswold said, is pushing people to fall behind a platform that might not encompass the full GOP spectrum.
Over the summer, a young female delegate at the Montana Republican Party platform convention that featured the slogan "We're better, together" was vocally jeered for trying to remove language on abortion policy that said life begins at conception. Her concern was alienating people who had different views on the topic.
Often in the Legislature, Stromswold said, the majority of the majority (a supermajority this year) wants similar allegiance to ideas with no room for diversion.
"It's become like you have to meet this standard. It's like a category, which I don't like. It's a party, you should fall under this umbrella. It's not this size 2 dress that everybody needs to fit into," Stromswold.
Her constituency in central Billings includes a fair amount of college students, older people trying to stay in their homes and young families just struggling to make life work.
"We're talking about drag shows when people in college, people in Bozeman, can't even afford housing and can't even find housing," Stromswold said. "It feels frustrating that we have this power (as legislators). The Republican Party is so great. We have this power … but it's just so divisive and nothing gets done."
She's studying political science now, of course, but sees herself going into work on the advocacy side of things when she's done, perhaps focusing on human trafficking.
Stromswold does have optimism, though on a long timeline, that things will get better both in the party and Legislature. She hopes her replacement will be someone who brings a similar perspective as hers to the Legislature.
"I have a lot of faith in my generation," she said. "It's going to take a lot of time."
.