Estimated read time: 6-7 minutes
SALT LAKE CITY — The first response was the most important, but the second and third response can have a vital impact, as well.
That's speaking to the incredible response issued by the medical staff and first responders at Paycor Stadium in Cincinnati when Buffalo Bills defensive back Damar Hamlin shockingly collapsed unconscious in the middle of the first quarter on Monday Night Football against the hometown Bengals.
Hamlin suffered cardiac arrest on the field that silenced the crowd, captivated the nation, and stunned his teammates and opponents while Bills assistant athletic trainer Denny Kellington and the medical staff administered life-saving CPR techniques..
Hamlin remains in critical condition but actively recovering at the University of Cincinnati Medical Center, as the NFL turns its attention toward other reparations from Monday night.
Among those, the league must consider the mental toll of the shocking injury witnessed by millions worldwide, including Hamlin's teammates and colleagues in the league, mental health experts told KSL.com.
"We all recognized life in that moment," said Kevin "Dock" Woods II, a former Utah Valley basketball player who now works as the program's mental health specialist while running a private practice at Holistic Training. "It wasn't just a football player or an entertainer; we recognized a human. We all collectively came together.
"It was emotionally disarming, with feelings of powerlessness, confusion, vulnerability, and an uncertainty of what is happening."
It's easy to look at football players as commodities by a league that is also a business. Humans are often resources in the corporate world; and the NFL is the same, with 53-man rosters, practice squads, and players shuffling in and out of the league every year — to say nothing of the daily, weekly and monthly grind of those on the fringes.
But the NFL's biggest resource is its players, and that resource should be prioritized with mental health resources for the athletes who experienced trauma at the game or were otherwise triggered by watching the events unfold on national television.
"When I first saw it, it almost looked like a normal hit, one that we've seen so many times," said former NFL player Mike Gibson, a five-year NFL vet of the Eagles, Seahawks and Cardinals who now works as a mental health and addiction recovery advocate for the Mental Health Center in San Diego. "Injuries happen in football; they happen every single day in practice and in games. … Everything switched, not when the ambulance came out, but the second they started to do resuscitation.
"I've never seen that on the football field, nor have most of the players out there; and then everything changed. There's a brotherhood that goes on from training camp to daily battles, and you ultimately think about them as family. This became so much bigger than football."
Suddenly, the reliably violent game of football collided with the reality of a 24-year-old adult fighting for his life. Hamlin wasn't just a football player anymore.
He was somebody's son, brother and best friend, and such for a lot of people in the Buffalo Bills' locker room. A GoFundMe account connected to his Chasing M's nonprofit amassed more than $7 million in a few days, prompting fans to donate directly to the foundation as they learned about the third-year defensive back out of Pittsburgh with a heart of gold.
Even Hamlin's first utterances after regaining consciousness involved football: Did the Bills win?
"Damar's doing much better, and that helps," Gibson said. "He's speaking to his team via FaceTime, and they know what he wants.
"That switches your perspective on the whole thing. That helps guys want to go out and play for him; they know they can do this."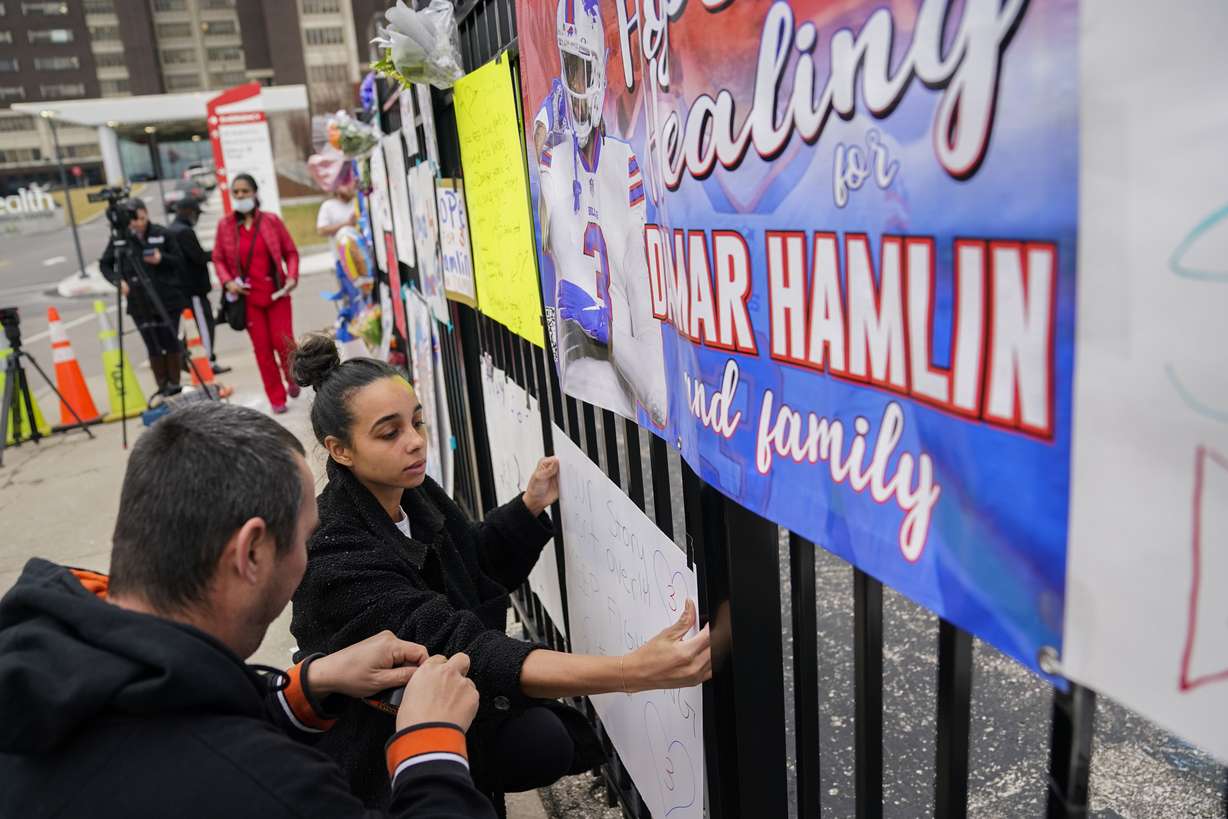 NFL officials have tried to acknowledge Hamlin during the regular-season finale across the league, with honors by fans, players and staff members that include:
A pregame moment of support to be read at every NFL stadium during Week 18, asking fans to join with the club in a "moment of support and love for Damar, and cheer for him and his family as they continue their fight."
Outlining the No. 3 on each 30-yard line in either Buffalo Bills Red or Buffalo Bills Blue
Wearing black T-shirts during pregame warm-ups that include the phrase, "Love for Damar 3." Bills players will wear similar shirts, but in royal blue.
A No. 3 jersey patch worn by the Bills during their Week 18 game.
It's unlike anything Gibson, a longtime football fan before and since his playing days concluded, has ever seen.
"I think this is a way for the current players and fans to recognize what happened, and not just forget about it and move forward," Gibson said. "That's important in mental health: You recognize the incident, process it, understand it, and then move forward. That's how it makes us better in the long run."
Seeing the way star players like quarterbacks Josh Allen of Buffalo and Joe Burrow of Cincinnati have spoken up and led out to honor Hamlin likely helps those athletes who feel stuck playing a game while a teammate and/or friend and associate fights in a hospital room, he said.
"We know this can happen, but we never believe it can be one of us," Gibson said. "Psychologically, it's going to take a toll on the people who were there.
"Even if it's a one-in-a-million shot, you'll still think, 'That could be me.'"
Those most impacted by Hamlin's injury start with the player and his family, but it also includes his teammates, coaches, staff and those who knew the player, both directly and tangentially.
Prioritizing mental healthcare for those closest to him—in Woods' line of work, he recommends starting with roommates and close friends—can keep one trauma from spiraling to another.
"No one thinks about the individuals that witness it; we put most of our concern on the athlete who is injured, and rightfully," Woods said. "But I like to check in with roommates and those closest to the injured athletes. Those are the ones seeing the day-to-day of that athlete, and they need coping skills: how to communicate, how to serve better, but also not giving too much of their energy to something that isn't theirs to carry.
"It's nice to be helpful, but you can really lose yourself in that, as well. So it's good to keep your own mental space for your brother or sister on the team."
For those coping with tragedy or trauma, Woods recommends engaging in spiritual practices such as prayer and meditation, serving and volunteering at charitable organizations, or simply turning off the television to offer time to process one's thoughts.
Don't be afraid to address the situation with loved ones and those closest to you, though, he said. Such conversations can be awkward at times, but they are necessary to process emotions.
"Each one of us has different negative experiences that may resurface during this time, as well," Woods said. "Each person on that field had their own experience, maybe their own level of PTSD from that moment.
"For anyone affected by this, it was a great time to pause and truly take a moment to be mindful and grateful of life."
×
Most recent NFL stories
More stories you may be interested in
.